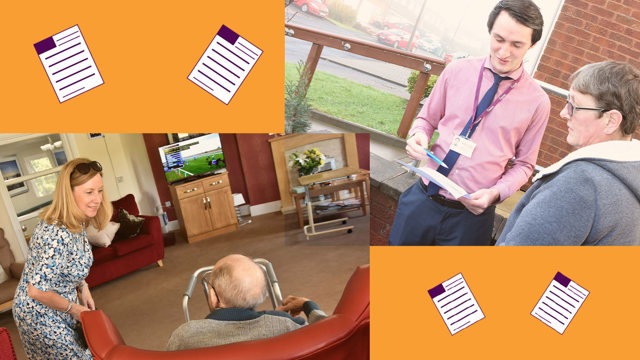 How are we doing?
You have told us previously that you want to know more about what we spend and where, and that we communicate this in ways that are in easy reach. Specifically you want to know about the level of spend on improvements and repairs. We will present some of this detail in this report but aim to improve on this by being transparent.
Comparisons this time have not been easy because the questions we usually ask were changed to understand how you feel. Other landlords have not been asking the same questions, but beginning to do so. Next year we will have better comparisons but this time we have given you some so you can see how we are doing.
Homes and neighbourhoods
The way we ask you about your home and neighbourhood is important so in October 2019 we changed the question to understand more about how you feel about your experience. The question: Do BCHG help you feel safe and secure 'within' your home? When asked 87.6% of you were satisfied. In addition, we also asked you about whether you feel communal areas in your neighbourhoods are safe, and 90.6% (87 of 96) of you were satisfied. As it is the first time to ask those questions, we could not compare to anything earlier on this occasion but will next time.
Last year we set to resurvey all our homes to improve our information on your home and to make sure we are spending the right money on the right things. This started well, but like many other services had to be temporarily paused because of the COVID-19 Pandemic. As soon as it is safe to do so, we will start to survey our homes again.
We are also looking to continue to improve our work in our communities through our Customer Relationship Managers as well as to make more use of digital technology to stay connected and to tell us when things are working well or not so well. Our Social Business Team is also supporting communities through employment advice, training, and helping those in hardship to keep a roof over their head.
Repairs and Maintenance
Overall you rate our repairs service highly with 84.09% of tenants being satisfied with the service.
For BCHG this number was slightly higher than last years at 84.0%, so we continue to improve. However, our average time to complete a repair was 9.87 days compared to 10 days on average for the previous year, and BCHG's first time fix performance in 2019 was 91.96%, compared to 74% in the previous year.
These improvements in service delivery is one of the main reasons that we brought the repairs service in house from April 2019 and we are confident that this change will improve how we perform as well as supplying a more joined up service to you.
Satisfaction with BCHG as a landlord
Overall, over 90.14% (IFF Voluntas Survey as at end of March 2020 – 311 of 345) of our tenants are satisfied with the services we provide. This is compared to other local associations for whom the average is 80.4% (IFF Voluntas: Benchmark of associations between stock size of 2000 to 10000 – period April 19 to March 2020)
This figure is slightly lower than a year ago of 90.5% (BCHG Stat in previous year report).
61% of you when asked told you would refer a member of your family or friend to us. This is compared to other landlords for whom the average is 52.8% ((IFF Voluntas: Benchmark of associations between stock size of 2000 to 10000 – period April 19 to March 2020)
While we are pleased there has not been a significant downward trend on overall and you still rate us highly to refer other to us, we know we can improve more. We have this year launched our new Customer Portal and working with you to improve our online service. We are training our staff on professional courses to make sure we can give you the best advice and support. We are constantly reviewing feedback to improve our repair service and estate service delivery.
Listening to you
We have changed the way we ask you about whether you feel listed to. This time we asked you about trust and respect, which is at the heart of feeling listened to. 89.5% responded positively when asked if you feel respected by BCHG. 90% of you told us that you trust BCHG. (these results are up to Feb 2020, as this question was removed during the Pandemic).
As these are new questions, and unique to BCHG, we do not have like for like comparison this time round but will be able to do so next year. Although our question was different last time, 79% of you told us then we seek to hear your voice and you feel listened to. We can see from this that we have improved.
While this is positive, we know we can do more. As an early adopter of "together with tenants", an initiative to make sure that tenant voices are heard by landlords, we held focus group meetings with you through an independent organisation. Through this you have informed our priorities on what really matters and how we listen to the tenant voice and act upon it.
At our Retirement Living Schemes we held meeting with you to help us understand how we shape our service offer to you.
We have heard your voice through both complaints and compliments. During the year we received 12 complaints (Source: BCHG Complaints & Compliment Register as at 10/06/2020) from you and these were about the approach taken by our staff, poor standard of repairs and how we deal with anti-social behaviour. Your compliments told us staff went over and above, carried out a high standard of work.
Your health and safety is of the highest importance to us. During the year we spent over £500,000 on health and safety related activities.
This included:
Carrying out gas safety checks to 100% of our gas boilers – over 1,550 in total
Completing 378 electrical safety checks on our homes, which are now on a five-year programme
Conducting Fire Risk Assessments on all blocks of flats. We assessed all our apartments for risks of inappropriate cladding and commenced a programme of works to upgrade and improve safety on our fire doors.
Assessing the risks of legionella and carried out monthly temperature checks to our schemes and offices.
Checking and servicing all passenger lifts that we own
Maintaining the 100% of asbestos surveys in communal areas and completing 99% of our surveys of our homes in general
The development of new high quality homes to support our communities remain a key priority for BCHG.
 
In 2019/20 we developed 10 flats on an unused brownfield site at John Street West Bromwich and 9 three bed houses on a previous depot site in Meadow Lane, Dudley.
 
We are committed to continue building homes and we have started on site at The Green in Darleston to build 21 houses and flats and are acquiring 17 additional homes in Wolverhampton and Sandwell as part of our partnerships with other house builders. We are also looking to start on site at St Peters Road Dudley (21 homes) and Meredith Street, Sandwell (15 homes) this year.
 
We are also acquiring three additional development sites from Sandwell MBC in exchange for our old offices and will be developing a further 60 homes on these sites over the next few years.
Value for Money
Our overheads (how much we spend on back office services and administration) for 2019/20 was 14.96% compared to a sector median in 2018/19 of 12.8%. Value for money isn't purely about doing things as cheaply as possible but is also measured in terms of the quality of services provided. This increased spend on overheads is reflective of the ongoing investment that we have made in recent years to our ICT infrastructure in developing services which are more accessible to our customers. This will include the new Customer Portal.
Summary of the year