How are we doing?
You have told us previously that you want to know how we are doing compared with other local housing associations and how we are improving our performance year on year. While we have many different ways of comparison we also know that you care about value for money, how the repairs service is doing, your neighbourhoods and whether we listen to you as our customers.
In comparing ourselves with others we have used a group of other West Midlands Housing Associations with stock of less than 10,000 homes. In future years, as we look to improve, we hope to make this comparison even more local to you.
Your home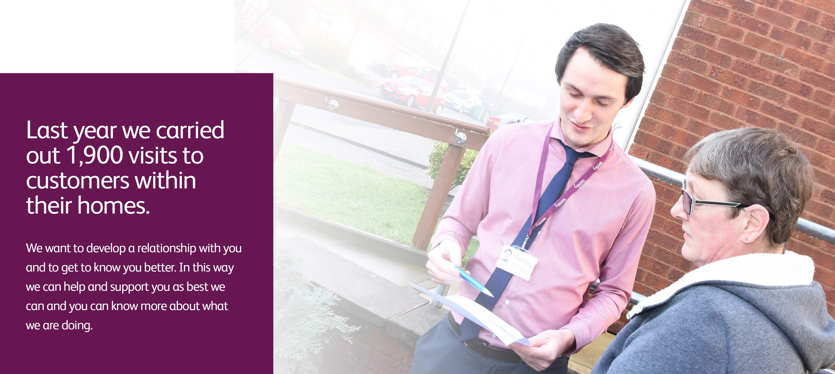 Homes and neighbourhoods
When asked 90% of you were satisfied with the quality of your home versus 86% of tenants of other local associations. In addition 87% of you were satisfied with your neighbourhood versus 85% of tenants of other local housing associations.
Satisfaction with your home was 87.7%, and neighbourhood was 84.2% last year, so we have improved in your eyes in both areas.
We are resurveying all of our homes in the next twelve months to improve our information on your home so we can be sure we are spending the right money on the right things. We are also looking to continue to improve our work in our communities through our Customer Relationship Managers and our Social Business Team.
Repairs and Maintenance
Overall you rate our repairs service highly with 84% of tenants being satisfied with the service versus 81% of tenants of other local associations.
For BCHG this number was 82.3% last year so we continue to improve. However our average time to complete a repair is 10 days compared with 9 days for our peers and in 2018 we only completed jobs first time 74% of the time versus 90% for our peers.
This is one of the reasons that we brought the repairs service in house from April 2019 and we are confident that this change will improve how we perform as well as providing a more joined up service to you.
Satisfaction with BCHG as a landlord
Overall over 90.5% of our tenants are satisfied with the services we provide. This is compared to other local associations for whom the average is 86%.
This figure has increased from 87.51% for BCHG from last year.
While we are pleased with this we know we can improve more and this is why we are increasing our staffing in our operational teams in 2019/20, rolling out more on line services you can access 24/7, and looking to improve our repairs service further.
Listening to you
79% of you say we seek to hear your voice and you feel listened to. This is compared with just over 76% of tenants of other local associations.
This satisfaction improved for BCHG from 71% from the previous year so again an improvement.
Again while being positive we know we can do more. We are an early adopter of "together with tenants", an initiative to make sure that tenant voices are heard by landlords. We are working with our Tenant Scrutiny Panel to improve this and our Board are listening to tenant voices to ensure the new strategic plan of the organisation has the ethos of listening to customer voices at the heart of what we do.
We have heard your voice through both complaints and compliments. During the year we received 31 complaints from you and these were mainly about how we manage your tenancy, our repairs service and how we deal with anti-social behaviour.
Your health and safety is of the highest importance to us. During the year we spent over £500,000 on health and safety related activities.
This included:
Carrying out gas safety checks on all of our gas boilers
Completing electrical safety checks on a fifth of our homes as part of a five year programme
Conducting Fire Risk Assessments on all but one block of flats which has now been completed. We assessed all of our apartments for risks of inappropriate cladding and started a new programme of works to improve fire safety on doors.
Assessing the risks of legionella in all of our properties
Checking and servicing all lifts that we own
Maintaining the 100% of asbestos surveys in communal areas and completing 99% of our surveys of our homes in general
Visiting over 90% of our homes to ensure that wellbeing of our residents
Our region is in the middle of a housing crisis and BCHG is committed to doing what it can to build new affordable high quality homes.
In 2018/19 we built 24 homes at Peel Street Tipton and finished our new 66 bed care home at New Bradley Hall, Kingswinford.

In April 2019 we then completed 10 flats at John Street West Bromwich: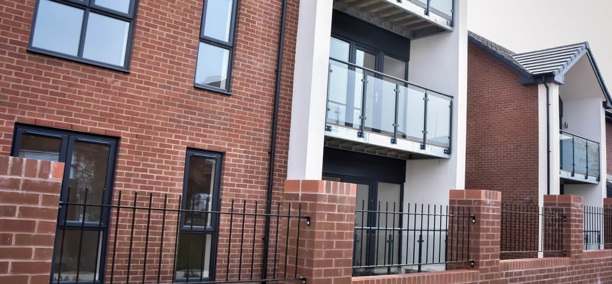 Our ambitions are to build at least 50 high quality homes each year. We are currently on site at Meadow Road, Dudley and are planning to build in Phoenix Street, West Bromwich, The Green, Darlaston and Chestom Road, Bilston.
Value for Money
In terms of value for money, our overheads (how much we spend on back office services and administration) is 13% of our turnover. This is almost exactly the average of all other associations we have compared ourselves against.
When asked almost 88% of our tenants state that the rent they pay is value for money compared with 86.5% of other local association so we are above average in this area.
For BCHG this number was 86.1% satisfaction last year so we have improved slightly.
While spending in this area is necessary we are looking to improve this in the next few years by improving our approach to on line services that meet your needs and reducing our office accommodation).
Summary of the year